PNLA online conference – Scots Law – "Currently out of reach – Always in Touch" – RUNNING NOW – from 26 March 2021 until 23 June 2021
---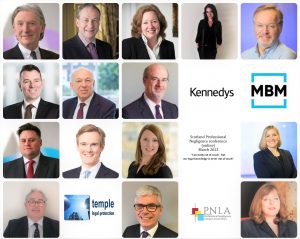 Joint Chair: Karen Cornwell – Kennedys Law LLP
Joint Chair: Tim Edward – MBM Commercial  LLP
Keynote speakers: Lord Ericht, Lord Davidson of Glen Clova QC and Lady Haldane
Event sponsors – Temple Legal Protection and Hanscomb Intercontinental
Professional Negligence and Liability
Scots Law – "Currently out of reach – Always in Touch"
This conference is designed for all professionals with an interest in Professional Negligence and Liability. Subjects covered include claims against Government officials, Group Litigation, Product Liability, Reflective Loss, Prescription, Litigation in the USA, Mediation, Finance and Banking claims, SIPPS, Virtual Hearings and more.
CPD 7.25 hours
Speakers
| | |
| --- | --- |
| Tim Edward | MBM Commercial LLP |
| Karen Cornwell | Kennedys Law LLP |
| Lord Ericht | Judge of the Supreme Courts |
| Lord Davidson of Glen Clova QC | Axiom Advocates |
| Lady Haldane | Judge of the Supreme Courts |
| Nicholas Davidson QC | 4 New Square |
| Cat Maclean | MBM Commercial LLP |
| Christopher R Carroll | Kennedys Law LLP (USA) |
| Matthew Pascall | Temple Legal Protection Limited |
| Sean Gibbs | Hanscomb Intercontinental |
| Rachael Bicknell | Squaring Circles |
| Scott Manson | Axiom Advocates |
| Rory Thomson | CMS Cameron McKenna Nabarro Olswang |
Other Information
CPD 7.25 hours
4.75 hours – Filmed talks
1 hour – Conference Pack Review
1.5 hours – Questions & Answers via WhatsApp Group and Zoom Wrap Party – 23 June 2021
Agenda
PNLA Introduction
2 mins  Tim Edward – Partner – MBM Commercial – Joint Scotland Representative
Tim joined MBM Commercial as a Partner in January 2021. He has over three decades of experience in litigation and dispute resolution and is listed as a leading lawyer in both Chambers and Legal 500 for Commercial Litigation and Professional Negligence (Scotland).
He is an accredited specialist in professional negligence (Law Society of Scotland).
Tim is ranked as Band 2 in Chambers for Professional Negligence – Scotland and Band 3 for Litigation – Scotland and is described as "A consistently good and reliable lawyer." He is listed in Legal 500's Hall of Fame for both commercial litigation and professional negligence. Tim is an active Solicitor-Advocate with experience of presenting cases in the Court of Session.
Prior to joining MBM, Tim spent 30 years at Dentons (previously Maclay Murray & Spens) where he was a partner and a member of their Litigation and Dispute Resolution practice, focusing on insolvency and company litigation. He is a currently a member of the Law Society of Scotland's Pursuer's Advisory Panel pursuing negligence claims against solicitors. He served on the Law Society of Scotland's Diploma Materials Committee in the 1990's and ran the Maclay Murray & Spens PCC Elective on Civil Litigation from 2003 to 2012.
He carries out regular CPD training for the profession in the field of dispute resolution. https://mbmcommercial.co.uk/tim-edward.html
5 mins  Karen Cornwell – Kennedys Solicitors – Joint Scotland Representative
Karen is a Notary Public and qualified as a solicitor in Scotland in 1999 and England and Wales in 2010.
Her background has exclusively been in litigation with a strong emphasis on all manners of commercial, property, banking litigation and professional negligence.
Karen is one of only ten solicitors to be Accredited as a Specialist in Professional Negligence Law by the Law Society of Scotland.
She is also an active member of the Forum of Insurance Lawyers ("FOIL") and acts as a Scottish representatives of their Environmental Sector Focus Team and is an active member of the Professional Negligence Lawyer's Association.
https://kennedyslaw.com/our-people/profiles/glasgow/karen-cornwell/
20 mins  Lord Ericht – Judge of the Supreme Courts 
 – "Group Proceedings in the Court of Session: a View from the Bench"
The Hon Lord Ericht was appointed as a judge of the Supreme Courts in May 2016 and currently sits in the Commercial Court  . He qualified as a solicitor in 1988 and practised with Clifford Chance and Tods Murray WS before becoming an advocate in 1996.
After being appointed as a Queen's Counsel in 2009 he served as an advocate depute until 2013 then returned to independent practice in mainly commercial and public law.  He held part-time appointments as president of the Scottish Tax Tribunals, visiting lecturer at the Université de Lorraine, France, editor of Session Cases (the official series of Scots law reports), chairman of the ICAS Appeal Tribunal, Senior Decision Maker for the Guernsey Financial Services Commission and member of the Scottish Civil Justice Council.
In 2017 he was appointed as a judge of the UK Upper Tribunal (Tax and Chancery Chamber) and a member of the Upper Tribunal for Scotland. In 2020 he was appointed to sit as a Chairman of the UK Competition Appeal Tribunal. He is an honorary fellow of the Royal College of Physicians of Edinburgh and a trustee of the LawScot Foundation. https://www.judiciary.scot/home/judiciary/judicial-office-holders/senators-of-the-college-of-justice/lord-ericht
21 mins  Lord Davidson of Glen Clova QC – Axiom Advocates
– "A swift tour of Governance and recent decisions"
Lord Davidson resumed practice in 2010 after 4 years as Advocate General, a UK Minister of the Crown. He frequently appears in Appellate courts. Recently he has appeared in the Inner House in an international business case and in a contested scheme of arrangement of an insurance company. He has acted as leading counsel in cases involving banking, information, EU law, judicial independence and human rights in over 20 cases before the Supreme Court, the House of Lords, the Privy Council and the European Court of Justice.
As Advocate General he was closely involved in the formation of UK and Scottish legislation, in representing the UK government in the higher courts and assessing issues arising out of such matters as the international financial crisis and the UK's devolution settlement. He represented the Foreign and Commonwealth Office in the Lockerbie appeal.
His non-government practice is broadly in the commercial and public law spheres. He has been Solicitor General for Scotland, a founding Director of the City Disputes Panel (for the wholesale financial sector), a commissioner of the Scottish Council for International Arbitration and he is a member of the English Bar and the House of Lords. He has experience in dealing with difficult issues, including arbitration, in a number of overseas jurisdictions especially in China and has recently acted in an international construction mediation. More recently he led a case with Central Asian, Caribbean and Latvian components to a successful conclusion.
Lord Davidson produced, for the UK government, "The Davidson Review of UK Implementation of EU Regulation" in 2006 and co-wrote the first Scottish textbook on Judicial Review. He is an Opposition spokesman on Law and Treasury matters in the House of Lords. https://www.axiomadvocates.com/advocates/profile/the-lord-neil-davidson-of-glen-clova-qc
24 mins  Lady Haldane  – Judge of the Supreme Courts
– "Recent developments in Product Liability – what's the meaning of 'defect'?"
The Hon. Lady Haldane was appointed as a Judge of the Supreme Courts in February 2021.  Prior to that, she practiced as a Queen's Counsel from 2010, having called at the Bar in 1996.  Her practice encompassed complex clinical negligence and catastrophic injury claims, public law, claims under the Warsaw and Montreal Conventions and Product Liability.  She served as an Ad Hoc Advocate Depute and as Standing Junior Counsel to the Home Office. https://www.judiciary.scot/home/judiciary/judicial-office-holders/senators-of-the-college-of-justice/lady-haldane
30 mins  Nicholas Davidson QC – 4 New Square
– "Watch for the Reflection: the problem of "reflective loss""
Nicholas is a commercial litigator, arbitrator and mediator with deep experience of professional liability work at all levels of the Court system.  He was one of the founding members, and in due course Chairman, of the Professional Negligence Bar Association. "He has great attention to detail and is extremely technically astute and tactically very clever" (Chambers & Partners 2020) and is said to produce "masterpieces. The work, the detail, the focus that goes into it – it is outstanding; it blows me away." (Chambers and Partners 2019). "An exceptional Silk" (the Legal 500 2019) "with a charming manner which puts clients at ease" (Legal 500 2016). He is particularly known for his work involving claims against lawyers, and especially interested in claims involving investment professionals. He is a CEDR accredited mediator and a member of Scottish Mediation. https://www.4newsquare.com/barristers/nicholas-davidson-qc/
25 mins  Cat Maclean – Head of Dispute Resolution – MBM Commercial
– "Professional Negligence aspects of Banking Litigation"
Cat is the only solicitor to have won the prestigious title of "Solicitor of the Year" twice. Prior to joining MBM in 2008, she spent several years in a large litigation practice in Edinburgh, before becoming an Advocate at the Scottish Bar in 1998.
She spent 10 years in busy practice as an advocate before joining MBM, and having undertaken cases in the Sheriff Court, the Court of Session and the Appeal Court, she has been able to apply her extensive litigation and courtroom experience to the work she now undertakes for her clients. She sits on the Lord President's Consultative Committee on Commercial Actions, chaired by Lord Doherty, and has also been appointed to the Law Society of Scotland's Professional Conduct Committee, which sits every month. Additionally, she is also a Writer to the Signet (WS) and has been appointed to the Council of the WS Society.
Her clients include individuals, technology companies, property developers and entrepreneurs. She specialises in both financial claims, against banks and other financial institutions, and in professional negligence.
In addition to her work in financial claims, Cat is a qualified mediator, and mediates regularly for her clients. She also has an established expertise in professional negligence claims, advising clients with claims against a range of former professional advisers including solicitors, surveyors, financial advisors and financial institutions, and in May 2020 was appointed to the Law Society's Pursuer's Panel, a Panel of 8 solicitors with expertise in dealing with professional negligence claims against other solicitors, who advise the public on claims for negligence.
https://mbmcommercial.co.uk/cat-maclean.html
22 mins  Christopher R Carroll – Partner – Kennedys (USA)
– "Social Inflation in the United States (2021)"
Chris is a Partner in the New York and Basking Ridge offices and is a member of Kennedys' Global Strategy Board. He has extensive experience in handling and resolving— through litigation and alternative dispute resolution mechanisms — insurance coverage disputes, including those involving environmental, toxic tort, asbestos, construction, advertising liability, products, cyber, technology, property, automobile, and employment issues.
Chris has represented clients in insurance coverage disputes in virtually every state in the United States, on both the state and federal level, as well as in Bermuda, Canada, Puerto Rico, and throughout Europe. He also is experienced in resolution of reinsurance disputes and the drafting of reinsurance contracts. Chris often provides counsel to corporate clients on general business matters, contract negotiation, environmental litigation and compliance, and all types of commercial disputes.
Chris is a frequent lecturer on a myriad of insurance and litigation topics, including mediation and negotiation, bad faith, construction defect, toxic tort, hazardous waste and advertising liability. He is on the Editorial Advisory Board of Insurance Law & Litigation Week, a Fellow of the Litigation Counsel of America, a Fellow of the American College of Coverage Counsel (ACCC) and on the Advisory Board for The Center for the Study of Insurance Regulation at St. John's University in New York. Chris also is Chairman of the Board of Trustees of St. Joseph's College in New York.
https://kennedyslaw.com/our-people/profiles/basking-ridge/christopher-carroll/
26 mins  Matthew Pascall – Barrister – Temple Legal Protection
– "A beginner's guide to ATE for professional negligence cases in Scotland."
Matthew Pascall is the Commercial Senior Underwriting Manager at Temple Legal Protection. He joined the company in November 2017 after more than 30 years in practice at the Bar. He heads Temple's commercial team and has been at the centre of Temple's initiative to develop ATE for Scotland. Having practiced in professional negligence (whilst trying to do so without having been professionally negligent) Matthew brings a wealth of practical experience to the underwriting of professional negligence litigation.. https://www.temple-legal.co.uk/about-us/our-people/
10 mins   Sean Gibbs BSc LLB (Hons) PG Dip Arb LLM MICE FCIOB FRICS FCIARB   – Hanscomb Intercontinental
– "The role of an Expert Witness"
Sean has held directorships and senior commercial positions with contracting and consultancy firms in the United Kingdom and Internationally. With over 30 years' experience in the global onshore and offshore construction and engineering industries Sean has worked across the continents of Europe, Asia, Middle East, Africa and the Americas.
He has acted as quantum expert before various dispute resolution tribunals including adjudication, dispute board, expert determination and arbitration.
Sean holds a current Cardiff University Bond Solon accreditation and is a practising member of the Academy of Experts.
Project experience includes major airport developments, industrial process plants, commercial developments, military and police installations, heavy engineering in respect of onshore and offshore oil & gas facilities and pipelines, highway interchanges, tunnels, leisure resorts, nuclear, water treatment and desalination plants, waste to energy, biomass, onshore and offshore windfarms, renewables, mines, ports, hospitals and rail/metro projects.
Projects have been based on numerous standard and be-spoke Conditions of Contract, including the NEC/ECC Suite of Contracts, JCT Suite of Contracts, ICE Suite of Contract, FIDIC Suite of Contracts, I Chem E Suite of Contracts, ICC Suite of contracts and other EPC / Split EPC / EPIC / FEED / EPCM  /LSTK  forms.
He is actively involved with construction law institutes and organizations including The Adjudication Society, Society of Construction Law (UK), The International Bar Association, The Dispute Resolution Board Foundation, Construction Industry Council ADR Board, UK Adjudicators and HK Adjudicators. Sean also sits as an arbitrator and adjudicator and through this experience better understands what the tribunal expects from those giving evidence.
Sean is a Liveryman of the Worshipful Company of Arbitrators and a Freeman of the City of London.
https://www.hanscombintercontinental.co.uk/
21 mins  Rachael Bicknell – Founder  – Squaring Circles
– "Mediation for Professional Negligence Disputes' "
Rachael is an experienced negotiator, solicitor and mediator. She founded Squaring Circles, a specialist dispute resolution business based in Edinburgh, and winner of the National Mediation Awards Newcomer of the Year Award 2020, in October 2019. Prior to that she practised as a dispute resolution solicitor for 12 years in two of the UK's most successful premium law firms, representing negotiating parties in mediations and solicitor to solicitor negotiations of civil and commercial disputes ranging in value from tens of thousands to multimillion pound claims.
After qualifying as an accredited mediator in May 2015, Rachael accepted assistant mediator appointments. She completed further negotiation training at the Program on Negotiation at Harvard Law School and qualified as a CEDR Accredited Negotiator. She has been a practising mediator since January 2020, is registered as a civil and commercial mediator with Scottish Mediation and the Civil Mediation Council and is on the mediation panels for the Scottish Land Commission for the tenant farming sector and the Professional Negligence Lawyers Association. Rachael is also a Level 3 Accredited Mediator with the Singapore International Mediation Institute.
Rachael combines her specialist training in advanced negotiation and mediation to provide "in person" and online mediation and negotiation consultancy services. She teaches negotiation skills on the LLM in Dispute Resolution at the University of Aberdeen. She is also an accredited specialist in Professional Negligence Law by the Law Society of Scotland. https://squaringcircles.uk/rachael-bicknell/
22 mins  Craig Watt – Brodies
– "A virtual reality: remote court hearings in Scotland"
Craig is a commercial litigator within Brodie's Dispute Resolution department and a Solicitor Advocate within the 'Advocacy by Brodies' set.
He is an experienced litigator, advising on how to resolve disputes involving contracts, insurance, product liability and property litigation. He has significant experience in conducting the progress of complex court cases in the Court of Session and extensive Sheriff Court, Inquiry and Tribunal advocacy experience.
Craig has been individually recommended by the Legal 500 Directory as "very experienced", and as a lawyer who "defends his clients forcefully".  https://brodies.com/people/craig-watt/
28 mins  Scott Manson –  Axiom Advocates
– "Prescription – Love it or hate it, where have we reached?"
Scott is a "highly sought after junior" (Chambers UK Bar 2020) with a busy and wide-ranging practice focusing on a range of commercial disputes including commercial contracts, professional negligence, insurance and construction project litigation. He has also developed a growing practice in shipping, maritime and admiralty litigation; and also contentious trusts and executories.
He is ranked in both Chambers UK Bar and the Legal 500 where instructing solicitors commend him for: having a "common sense, practical" and "commercial" approach; being "very good on strategy"; and being "excellent on his feet and very persuasive" in court. Scott is also listed as a "Future Leader" in respect of construction litigation in Who's Who Legal.
He is regularly instructed by most of the leading litigation firms in Scotland in complex high value cases before the Commercial Court on a range of issues and appears there regularly but also before the Sheriff Court, Sheriff Appeal Court and Inner House. He also advises and appears in Arbitrations and Adjudications.
Scott is a tutor in civil litigation at the University of Glasgow and a member of the Faculty of Advocates' public communications, assessment and reparation sub-committees. He is a member of the Society of Construction Law. https://www.axiomadvocates.com/advocates/profile/scott-manson
26 mins  Rory Thomson – CMS Cameron McKenna Nabarro Olswang
– "Where are we now with claims against SIPP operators? Carey and Berkeley: a tale of two trustees."
Rory is a senior associate in CMS's Insurance & Reinsurance Group.  Rory advises on a wide range of commercial and financial disputes, with extensive experience acting for professionals, financial institutions and their insurers in the defence of complex and high-value professional negligence claims, and particular expertise representing solicitors.
He has represented clients in the UK Supreme Court and courts in Scotland and England. Rory is qualified in Scotland and in England and Wales. https://cms.law/en/gbr/people/rory-thomson
3 mins  Katy Manley – PNLA President/Manley Turnbull
– "Closing Statement and Thank you"
https://www.pnla.org.uk/management-team/
Total 4 hrs 45 mins
Questions and discussion –  PNLA WhatsApp +44 7930251578
Terms & Conditions
PNLA is the trading name for:
The Professional Negligence Lawyers' Association Limited registered in England and Wales No 5206167. Registered Office: 61 Macrae Road Pill Bristol BS20 0DD England
PNLA Training Limited, registered in England and Wales, No 5026041. Registered Office: Ross House The Square Stow-on-the-Wold Gloucestershire GL54 1AF – VAT Registration No: GB840575622
Use of this website
As an association the PNLA will help you search for a Lawyer or Specialist from those listed on this website. We do no more. We do not give advice. We do not vet or in any way accredit the Lawyers or Specialists. We have not verified their qualifications and identity. We accept no legal responsibility or liability for their service to you.
Members and Specialists
The management team reserve the right to reject applications for members and specialists and terminate their membership and listing in circumstances they consider appropriate. Any monies received will be refunded, in whole or in part, at the discretion of the management team.
Booking conferences
The full fee invoice for the conference ticket is payable.
For conferences taking place at a venue on a fixed date, if cancellation is received in writing at least 21 working days before the event the fee will be credited less a £75 administration charge. Substitutions are welcome at any time subject to any variation in price that might be payable if the substitute is not entitled to a discount as a PNLA member or specialist.
For virtual conferences the ticket(s) purchased are for the individual delegate(s) named in the booking. If a delegate gives access to the recorded speaker programme to others then they agree to pay for a ticket at the full fee for all those delegates who watch the programme deriving from such access.
The booking constitutes a legally binding contract. The delegate and their employer/partnership/other practice entity are jointly and severally liable for payment of all the fees due.
The PNLA and PNLA Training reserve the right without prior notice to vary or cancel an event where the occasion necessitates including changing the password for virtual conference programmes.
The PNLA and PNLA Training accept no liability if, for whatever reason, the event does not take place or access online is not possible.
Large print versions of the hand outs can be made available by prior request. If sufficient notice is not received, it will be provided as soon as possible after the event.
If there are insufficient rooms in the hotel to accommodate all delegates who require one when an overnight stay is involved, we will try to arrange for rooms of a similar quality in a nearby hotel, but the organisers cannot be held responsible if such rooms are not available. Any additional cost will be invoiced to the delegate.
To the extent permitted by law, it is agreed that the PNLA, PNLA Training Limited presenters and speakers will not be liable by reason of breach of contract, negligence or otherwise for any loss or consequential loss occasioned to any person acting, omitting to act or refraining from acting in reliance upon the course material or presentation of the event, or, except to the extent that any such loss does not exceed the price of the event, arising from or connected with any error or omission in the material or presentation of the event. Consequential loss shall be deemed to include, but not limited to, any loss of profits or anticipated profits, damage to reputation or goodwill, loss of business or anticipated business, damages, costs, expenses incurred or payable to any third party or any other indirect or consequential losses.
The personal information provided by you will be held on a database and you may be contacted from time to time by The PNLA and PNLA Training with details of events and services that may be of interest to you. If you do not wish your details to be used for this purpose, please write to: The Database Manager, PNLA, PO Box 1685, Congresbury, Bristol, BS 49 5WQ or email: yvonne.fairbrother@pnla.org.uk
Tickets are not available as this event has passed.