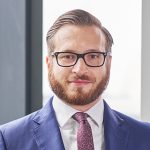 Stewarts
Solicitor
SRA 528422
03/03/2014
---
London
Stewarts Law LLP
5 New Street Square
London
Greater London
EC4A 3BF
alerner@stewartslaw.com
02078 228000
Email
Biography
Alex has acted in high-profile, complex professional negligence claims against financial institutions and solicitors. Alex is also a qualified solicitor-advocate and, before joining Stewarts, spent 8 years at Herbert Smith Freehills. During his time at the firm he has developed a reputation as an ambitious, hard-working and technical lawyer, with a real capacity for leadership and strategic thinking.
Prior to joining the firm, Alex acted as the lead associate advising FSCS in relation to professional negligence claims brought by individual claimants seeking compensation arising from the collapse of Rockingham (a firm of independent financial advisors, now insolvent) and the failure of so-called 'ARM' bonds.
Presently, Alex is the lead associate on one of the firm's largest pieces of litigation, the "Ingenious Litigation", representing over 350 individuals in claims valued at approximately £200 million in respect of investments made in film and video game partnerships promoted and operated by the Ingenious Media group. The case involves claims against in professional negligence against Ingenious and UBS. The negligence claims against Ingenious predominantly arise from alleged negligent statements and misrepresentations in the prospectuses it used to market the relevant partnerships, whereas the claims against UBS centre on its alleged negligent advice in failing to warn investors of the risks they faced when investing in the relevant schemes. The case was included in The Lawyer's Top 20 Cases of 2022.
Areas of Expertise
Other
Solicitors
Tax Advisers