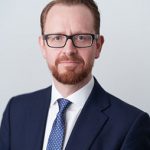 Fox & Partners
Solicitor
SRA ID:313455
18/04/2006
---
London
4-6 Throgmorton Avenue
London
City of London
EC2N 2DL
iadair@foxlawyers.com
+4420 76182886
Email
Biography
Ivor has considerable experience of conducting litigation in both High Court disputes and significant employment tribunal matters, as well as experience in many other aspects of employment, partnership and data protection law.
He regularly advises on sensitive partner and employee exits from professional services firms and in the financial services sector. His deep understanding of the sector was bolstered in 2018 following a course focused on Financial Services and Markets Regulation. He has also acted for senior executives, NHS Chief Executives, medical professionals, professional music performers and sports professionals, including a number of high profile football coaches and managers. Ivor's experience includes disputes arising out of breach of contract, including in relation to remuneration (incentive arrangements, carried interest and good leaver/bad leaver provisions), restrictive covenants matters and in professional negligence claims against firms of solicitors in relation to their employment law advice. He has also advised in arbitration proceedings.
His work demands a detailed understanding of professional regulatory matters, data protection rights and workplace privacy issues. In 2018 he presented to the membership of the American Bar Association on UK data protection, the GDPR and privacy issues.
During Ivor's career he has represented claimants in high-value and complex whistle-blowing claims, discrimination claims (including a sexual orientation discrimination claim concerning the "outing" of an individual, appealed to the Court of Appeal), executive work stress claims (overwork and or bullying) and TUPE claims. A number of his cases have established legal precedents. He appeared for the group of musicians who, in a ground-breaking claim,
Areas of Expertise
Barristers
Solicitor - Employment
Solicitors