PNLA online conference – Mid 20/20 Vision – TICKETS ON SALE – WATCH NOW- LAUNCHED 24 JUNE 2020 – ZOOM WRAP PARTY 2 NOVEMBER 2020
---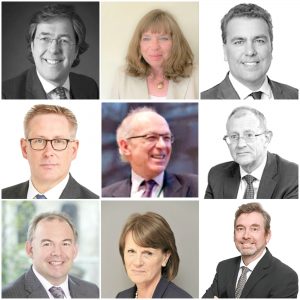 Nicholas Davidson QC has kindly agreed to Chair this Professional Negligence & Liability update which takes place some 3 months  into lockdown since  March 2020 due to the COVID-19 pandemic. The aim of this conference is to talk you through the key points arising from recent judgments and other developments and is designed for specialists in this area of practice. The experience will feel 'face to face' and the speakers are there in reality to discuss the topics with you via group chats.
Speakers
| | |
| --- | --- |
| Nicholas Davidson QC - Chair | 4 New Square Chambers |
| Francis Bacon | Hailsham Chambers |
| John Virgo | Guildhall Chambers |
| Ivor Collett | Crown Office Chambers |
| Neil Berragan | Kings Chambers |
| Phil Crooks | Berkeley Research Group (UK) Ltd |
| Jayne Willetts | Jayne Willetts & Co |
| Tim Constable | Dentons UK and Middle East LLP |
| Jonathan Sachs | Irwin Mitchell LLP |
Other Information
CPD 6 hours: Speakers – 3.5 hours (210 minutes). To study the case law and materials in the conference pack – 1.5 hours. Group chat via Whatsapp and online meeting (date to be confirmed) are estimated to take 1 hour.
Ticketholders are invited to join the  Mid 2020 Vision WhatsApp Group text your name and firm to 07930 251578
ZOOM WRAP PARTY WITH SPEAKERS 2 NOVEMBER 2020 AT 2PM HOSTED BY HAILSHAM CHAMBERS FOR TICKETHOLDERS RSVP
Agenda
2 mins  PNLA Introduction – Katy Manley – President
14 mins  Nicholas Davidson QC – 4 New Square – "Chairman's Keynote Address – "Tools you may want in your toolkit"
Nicholas will be reviewing Marex Financial Ltd v. Sevilleja [2018] EWCA Civ 1468 (awaiting the decision of the Supreme Court) Assetco Plc v Grant Thornton UK LLP [2019] EWHC 592 (Comm) (22 February 2019) and Singularis Holdings Ltd v Daiwa Capital Markets Europe Ltd (Rev 1) [2019] UKSC 50 (30 October 2019)
Nicholas is a commercial litigator and arbitrator who has been described in the Legal 500 as being "an exceptional silk" (2019) with "a charming manner, which puts clients at ease" (2016) and by Chambers & Partners (2019) as someone who "produces masterpieces. The work, the detail, the focus that goes into it – it is outstanding; it blows me away." "You want him on your side and not on the other side." Nicholas is a past chairman of the Professional Negligence Bar Association and is also a member of the British Insurance Law Association, Chancery Bar Association, COMBAR, Bar European Group and Society for Computers and Law.
He has given numerous talks to the Professional Negligence Bar Association and Professional Negligence Lawyers' Association, particularly including the topics of professional insurance needs, obligations, and ability to exclude or restrict liability, and spoke on "Claims against Funds and Investment Managers" at the 2011 COMBAR North American meeting. https://www.4newsquare.com/barristers/nicholas-davidson-qc/
Recent cases: Sciortino v Beaumont [2020] EWHC 189 (Ch) (07 February 2020); Lonsdale, R (on the application of) v The Judicial Appointments and Conduct Ombudsman [2019] EWHC 2404 (Admin) (17 September 2019); Commodities Research Unit International (Holdings) Ltd & Ors v QSP Residual Recoveries LLP [2017] EWCA Civ 1197 (01 August 2017); Wright v Lewis Silkin LLP [2016] EWCA Civ 1308 (21 December 2016); Harlequin Property (SVG) Ltd & Anor v Wilkins Kennedy (a firm) [2016] EWHC 3188 (TCC) (12 December 2016)
42 mins  Francis Bacon – Hailsham Chambers – "Recent Developments in Loss of Chance"
Francis specialises in professional negligence, commercial insurance and commercial litigation. He appeared for the BVI Claimant in Moda v Gateley which is one of the subjects of his talk.
In 2017, Francis was named Professional Negligence Junior Barrister of the Year by Chambers & Partners. For over a decade he has been listed in the first ranks of Professional Negligence barristers in Chambers & Partners and Legal 500 and received glowing reviews including "brilliant. A ruthless cross-examiner with a lot of experience." "An absolutely charming man to deal with, [who] adopts a truly collaborative approach."  Legal 500 2020, refers to Francis as "the outstanding professional indemnity junior at the bar and a silk in all but name."
Francis acts for and against all professionals with a particular emphasis on claims against solicitors. He was led by Nicholas Davidson QC in the Nationwide Managed Litigation in the late 1990's, and acted in both the TAG Litigation in 2006/2007 and the Composite Legal Expenses Litigation. He has appeared in many of the leading Court of Appeal authorities on loss of chance claims.
His work often takes him overseas and he has worked on high profile professional negligence claims relating to lawyers and other professionals including in Bahamas, Milan, Paris and the Channel Islands. Francis has particular experience of obtaining freezing injunctions and pursuing tracing claims against dishonest lawyers and other professionals worldwide. He advises extensively on coverage issues especially in relation to dishonesty, successor practice and aggregation issues. Francis has acted as an adjudicator in complex professional negligence disputes. Building on his 16 years' experience as a Criminal Recorder, Francis acts for barristers and higher court advocates in many claims arising out of the alleged negligent conduct of criminal proceedings. https://www.hailshamchambers.com/barrister/francis-bacon/
Reported cases in 2019 include: Moda International Brands Ltd v Gateley LLP & Anor [2019] PNLR 27; Group Seven Ltd & Anor v Notable Services LLP & Anor (Rev 2) [2019] PNLR 22, a leading authority on dishonest assistance in breach of trust; Andrews & Ors v Messer Beg Ltd [2019] PNLR 23, a loss of chance claim brought by over 100 Claimants arising out of unsuccessful group litigation.
19 mins  John Virgo – Guildhall Chambers – "The Liability of Secured Lenders"
John is a specialist commercial barrister, with a strong practice emphasis on high-value financial product mis-selling litigation. John was Counsel in the case which is the subject of this talk Morley v The Royal Bank of Scotland PLC [2020] EWHC 88 (Ch) (27 January 2020). Further recent cases: Adams v Options Sipp UK LLP (formerly Carey Pensions UK LLP [2020/EWHC 1229 (Ch) (18 May 2020;  Healys LLP v Partridge & Anor [2019] EWHC 2471 (Ch) (23 September 2019); McDonagh v Bank Of Scotland Plc & Ors [2018] EWHC 3262 (Ch) (30 November 2018); Arif & Ors v Berkeley Burke Sipp Administration Ltd [2017] EWHC 3108 (Comm) (15 November 2017)
John has appeared in all the leading mis-selling cases, including: lead counsel appointment in a group pension mis-selling action (Cocking v Prudential); acting in a 400 strong group action in the Commercial Court on behalf of Equitable Life's trapped annuitants (Abeles and Others v Equitable Life Assurance Society); acting for Zurich Life to defend claims for product mis-selling arising out of the collapse of the Bahamian Imperial Consolidated Fund (Seymour v Caroline Ockwell & Co; Zurich IFA Ltd); acting for investors into the AIG Enhanced Variable Rate Fund who suffered substantial losses following its collapse (Rubenstein v HSBC Bank);acting for a number of high net worth individuals and businesses in relation to the mis-sellingof interest rate hedging products (Rowley and Green v Royal Bank of Scotland). He has acted in a number of leading cases concerned with the manipulation of LIBOR (Graiseley Properties Ltd v Barclays Bank Plc; Hotel de France Ltd v Lloyds (off-shore litigation in Jersey); Rhino Enterprises Ltd v Barclays Bank Plc and Longford Securities Ltd v Royal Bank of Scotland). He is currently acting in a multi-million pound claim against the Royal Bank of Scotland relating to an aborted Commercial Mortgage Backed Securities issuance.
John is instructed nationwide in complex and substantial disputes where his advocacy and forensic skills are highly valued. He is also retained off-shore in Isle of Man and Jersey. https://www.guildhallchambers.co.uk/barristers/219/
34 mins  Ivor Collett – Crown Office Chambers – "Suing Receivers: An uphill struggle?"
Ivor's practice covers commercial, professional liability and insurance disputes, with a particular focus on construction professionals (including engineers, architects and technical consultants) and lawyers.  He has been heavily involved in cases of imposter fraud and appeared in the recent Court of Appeal case of P&P Property Ltd v Owen White & Catlin LLP and Dreamvar (UK) Ltd v Mishcon de Reya [2018] EWCA Civ 1082.  Ivor's insurance work involves policy wording and coverage issues of notification, non-disclosure, aggregation and Third Parties' rights.
Ivor is a TECBAR-accredited Construction Adjudicator.  He was involved in development of the Professional Negligence Adjudication Scheme.  Over the last 5 years he has been the most frequently-appointed Adjudicator under the Scheme and he is the lead trainer for its accredited adjudicators.
He is recommended as a leading junior in the Directories, where he has been described as "Very impressive. He can unravel complex problems and explain things in a way that is very clear and easy to understand."
https://www.crownofficechambers.com/barristers/ivor-collett/
Recent cases: Centenary Homes Ltd v Gershinson (2020) QBD. Trial of professional negligence claim against LPA receivers; Hanbury v Hugh James Solicitors [2019] EWHC 1074 (QB). Loss of a chance claim arising out of asbestos litigation.
21 mins  Neil Berragan – Kings Chambers – "It's expedient to mediate"
Neil was Counsel in the recent case applying Halsey –  Wales (t/a Selective Investment Services) v CBRE Managed Services Ltd & Anor [2020] EWHC 1050 (Comm) (30 April 2020)
Neil practises in the specialist business courts (Mercantile, Chancery and TCC) in Manchester, Liverpool, Leeds and Birmingham. He also appears in the High Court in London (including the Companies Court, Commercial Court and TCC) and in the Court of Appeal. Neil is recognised as one of the leading juniors for commercial work in the North West, and he is regularly instructed against QCs.
Neil frequently acts on applications for interim relief, where his experience and understanding of the court process enables him to provide clients with practical and realistic advice, and to focus case preparation to the client's best advantage.
He has acted in a number of commercial arbitrations, domestic and international.
He has acted for a large number of major plc clients in the in substantial commercial disputes. He also has advised and acted in many substantial shareholder disputes, and other important company and insolvency matters.
Neil has advised and represented numerous solicitors and other professionals in partnership and LLP disputes.
https://www.kingschambers.com/all-barristers/neil-berragan/
Further recent cases: Shua Ltd v Camp And Furnace Ltd [2020] EWHC 687 (Ch) (24 March 2020 ); Glossop Cartons And Print Ltd & Ors v Contact (Print & Packaging) Ltd & Ors [2020] EWHC 1377 (Ch) (09 March 2020); Guest Services Worldwide Ltd v Shelmerdine [2020] EWCA Civ 85 (04 February 2020); China Town Development Company Ltd v Liverpool City Council [2017] EWHC 3347 (Ch) (19 December 2017); Higgins & Ors v TLT LLP [2017] EWHC 3868 (Ch) (27 November 2017)
12 mins  Phil Crooks –  Berkeley Research Group (UK) Ltd – "Professional Negligence claims against Accountants, Auditors, and Valuers"
Phil Crooks is a Chartered Accountant with over forty years of experience in accounting, auditing, and investigations. He has acted as advisory and testifying expert in connection with litigation, arbitration, and regulatory matters. Previously, he was an audit partner at a large firm and has acted as expert on a range of forensic accounting matters. He is a NED and chair of the audit and risk committee of a listed company.
Mr. Crooks was a partner in a large accounting firm for over twenty years. He was UK head of audit and had responsibilities which included setting the strategy and overseeing audit quality. He gained extensive experience of quality review programs, internal investigations, and liaising with regulators. Before that, he was in audit at a Big Four firm for fifteen years. His earlier career included accounts preparation, providing insight into how accounts are put together, knowledge that he has applied in investigations, due diligence, and other forensic work. He has audited UK businesses with overseas operations as well as UK subsidiaries of US and other overseas parents. This has included family businesses, private-equity backed and plc entities. The sectors have included construction, education, retail, manufacturing, technology, and services. https://www.thinkbrg.com/professionals-phil-crooks.html
26 mins  Jayne Willetts – Jayne Willetts & Co Solicitors – "Regulation for Litigators"
Jayne Willetts will review the new SRA Standards & Regulations as they apply to litigators, the difficulties of balancing duties to the court and to the client together with lessons from the SDT & the Administrative Court.
Jayne  is a solicitor advocate with extensive experience of the professional regulatory framework. Described as "a level-headed and incisive advocate who instils wholly justified confidence through her expertise and great experience coupled with great warmth of personality" she is ranked by Chambers & Partners Directory in Band 1 nationally for her professional discipline work.
Jayne is the founder of specialist regulation practice Jayne Willetts & Co. As well as advising on compliance and disciplinary issues, she appears as an advocate before the Solicitors Disciplinary Tribunal and in appeals to the Administrative Court. She serves as a member of the Solicitors Assistance Scheme as well as being a contributing editor to Cordery on Legal Services. She is also a member of the Law Society Regulatory Processes Committee.
Her qualification as a solicitor advocate in 1994 was the first by a woman solicitor for civil cases. In 2000, she was elected President of Birmingham Law Society and was the first woman to be appointed to that office since the Society was incorporated in 1818. She was also the first female Chairman of the Law Society Young Solicitors' Group in 1990.
Jayne is Legal Adviser to the Chartered Institute of Architectural Technologists. She is also a director of Infolegal Ltd, the legal compliance and practice advice service for law firms  www.infolegal.co.uk. https://jaynewilletts.co.uk/
15 mins  Tim Constable – Partner – Dentons UK and Middle East LLP – "The Claimant Perspective – Claims post Covid 19 and Update on Mediation"
Tim is a partner in the Commercial Dispute Resolution practice and is based in the Watford office.  As a commercial litigator, Tim resolves complex commercial disputes by negotiation, mediation, arbitration or litigation. He focuses on disputes involving commercial contracts, franchising professional indemnity, commercial fraud, sales of goods, product liability, corporate disputes and commercial agency related matters. He also has extensive experience in freezing injunctions and search and seizure orders. Many of his cases involve an international element.
Tim is a CEDR accredited mediator and well-known mediation advocate, having advised in more than 100 mediations. He has written in the business press, including The Financial Times and InterContinental Finance & Law magazine, and regularly lectures in the UK and the Republic of Ireland on mediation, bribery and lender professional indemnity claims.
Tim sits on a number of committees which advise the Ministry of Justice on various aspects of English civil procedure. https://www.dentons.com/en/tim-constable
25 mins  Jonathan Sachs – Partner – Irwin Mitchell LLP – "S14(a) Limitation Act 1980 – has the music changed?"
I specialise in professional negligence, commercial litigation and fraud, with expertise in negligence claims against solicitors, surveyors and tax professionals. I qualified as a solicitor in 1990 and have over three decades of experience in litigation. I understand the commercial aims of clients and how to reach them through the courts, settlement or mediation.
I've worked in litigation in various jurisdictions around the world, including the USA, Eastern Europe, Middle East and Hong Kong. I've also carried out settlements in Singapore, Paris and Geneva. My knowledge is extensive in different funding and insurance products to best protect my clients against litigation risks and costs.
Recent highlights:
Acted in Frederick v Positive Solutions. I advised my clients in the High Court and Court of Appeal stages. The case was granted permission to appeal to the Supreme Court and was settled prior to the hearing.
Acted in Newson-Smith v Al Zawawi in relation to proof and evidence required for a commital application, which is the leading authority for this area of law.
Acted in Santander v RA Legal in relation to conveyancing fraud and breach of trust, and won at the Court of Appeal.
Acted for an Israeli entrepreneur in a £20m claim against a City law firm arising from their professional negligence.
Acted for an international airline in respect of a Freezing and Disposure Application in London and Hong Kong.
Acting for an international businessman in a fraud claim for £175m.
Acting in two group claims against solicitors arising from failed investment schemes.
Acting for a number of pensions companies and pensions advisors in respect of a dispute against the Pensions Regulator.
Membership: Professional Negligence Lawyers Association
Testimonials: "Good at thinking outside of the box and pushing counsel to do likewise." – Legal 500, 2020
https://www.irwinmitchell.com/our-people/jonathan-sachs
Questions and discussion –  PNLA WhatsApp +44 7930251578
Terms & Conditions
PNLA is the trading name for:
The Professional Negligence Lawyers' Association Limited registered in England and Wales No 5206167. Registered Office: 61 Macrae Road Pill Bristol BS20 0DD England
PNLA Training Limited, registered in England and Wales, No 5026041. Registered Office: Ross House The Square Stow-on-the-Wold Gloucestershire GL54 1AF – VAT Registration No: GB840575622
Use of this website
As an association the PNLA will help you search for a Lawyer or Specialist from those listed on this website. We do no more. We do not give advice. We do not vet or in any way accredit the Lawyers or Specialists. We have not verified their qualifications and identity. We accept no legal responsibility or liability for their service to you.
Members and Specialists
The management team reserve the right to reject applications for members and specialists and terminate their membership and listing in circumstances they consider appropriate. Any monies received will be refunded, in whole or in part, at the discretion of the management team.
Booking conferences
The full fee invoice for the conference ticket is payable.
For conferences taking place at a venue on a fixed date, if cancellation is received in writing at least 21 working days before the event the fee will be credited less a £75 administration charge. Substitutions are welcome at any time subject to any variation in price that might be payable if the substitute is not entitled to a discount as a PNLA member or specialist.
For virtual conferences the ticket(s) purchased are for the individual delegate(s) named in the booking. If a delegate gives access to the recorded speaker programme to others then they agree to pay for a ticket at the full fee for all those delegates who watch the programme deriving from such access.
The booking constitutes a legally binding contract. The delegate and their employer/partnership/other practice entity are jointly and severally liable for payment of all the fees due.
The PNLA and PNLA Training reserve the right without prior notice to vary or cancel an event where the occasion necessitates including changing the password for virtual conference programmes.
The PNLA and PNLA Training accept no liability if, for whatever reason, the event does not take place or access online is not possible.
Large print versions of the hand outs can be made available by prior request. If sufficient notice is not received, it will be provided as soon as possible after the event.
If there are insufficient rooms in the hotel to accommodate all delegates who require one when an overnight stay is involved, we will try to arrange for rooms of a similar quality in a nearby hotel, but the organisers cannot be held responsible if such rooms are not available. Any additional cost will be invoiced to the delegate.
To the extent permitted by law, it is agreed that the PNLA, PNLA Training Limited presenters and speakers will not be liable by reason of breach of contract, negligence or otherwise for any loss or consequential loss occasioned to any person acting, omitting to act or refraining from acting in reliance upon the course material or presentation of the event, or, except to the extent that any such loss does not exceed the price of the event, arising from or connected with any error or omission in the material or presentation of the event. Consequential loss shall be deemed to include, but not limited to, any loss of profits or anticipated profits, damage to reputation or goodwill, loss of business or anticipated business, damages, costs, expenses incurred or payable to any third party or any other indirect or consequential losses.
The personal information provided by you will be held on a database and you may be contacted from time to time by The PNLA and PNLA Training with details of events and services that may be of interest to you. If you do not wish your details to be used for this purpose, please write to: The Database Manager, PNLA, PO Box 1685, Congresbury, Bristol, BS 49 5WQ or email: yvonne.fairbrother@pnla.org.uk
Tickets are no longer available.