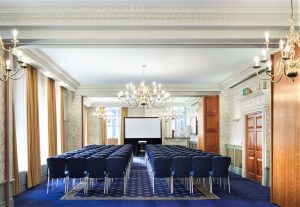 Chaired by Mark Lomas QC – Independent Mediators
Main event sponsors – Temple Legal Protection and Kevin Edward Costs
Different Perspectives: bringing together mainstream professional negligence practitioners with expert lawyers who may be needed to assess liability, causation and financial loss. Topics include recent developments in quantification of 'loss of a chance', perspectives from a mediator and disputes involving vibration white finger injury litigation, wills & probate, matrimonial finance, vicarious liability of agents, insolvency practitioners and employment law and practice.
Speakers
| | |
| --- | --- |
| Chair and Keynote Speaker - Mark Lomas QC | Independent Mediators |
| Ben Quiney QC | Crown Office Chambers |
| Charles Holbech | Radcliffe Chambers |
| David Pipkin | Temple Legal Protection |
| Oliver Wise | Queen Elizabeth Building |
| Paul Marshall | Cornerstone Chambers |
| Ivor Adair | Fox & Partners |
| Tom Shepherd | 4 New Square |
Agenda
0900–0925 Registration and Refreshments
0925–0930 PNLA Introduction
0930–0950 Chair's Keynote Address – Mark Lomas QC – Independent Mediators
Mark mediates regularly in all commercial, common law and related fields but has a particular reputation in the fields of professional negligence and insurance. He regularly conducts mediations in values ranging between £10m plus to £500k or less in a variety of areas including those listed on this page. His largest mediation to date was a 7 party commercial dispute worth over £120m involving four international insurers, settled in 4 days of mediation over two weeks. http://www.independentmediators.co.uk/our-mediators/mark-lomas-qc/
0950–1035 Ben Quiney QC – Crown Office Chambers – "Loss of a Chance"
Ben practises in all areas of common law and commercial litigation. He specialises in commercial and insurance disputes, construction, and professional negligence. Ben has fought cases in the specialist divisions of the High Court, the Court of Appeal, the Privy Council and the Supreme Court. He has a wide range of experience in domestic and international Arbitrations in a variety of jurisdictions.
Ben is acting as part of the team defending the series of claims arising from the alleged under-settlement of miner's VWF claims by, amongst others, Raleys solicitors. Perry is a key Supreme Court decision reviewing important issues for solicitors' negligence. It deals with the test for lost chances and honesty, the principles in Allied Maples, and questions of the Court of Appeal's jurisdiction (BLM). Perry v Raleys Solicitors [2019] UKSC 5 (13 February 2019) https://www.crownofficechambers.com/barristers/ben-quiney-qc/
1035–1045 Questions and Discussion
1045–1100 Refreshments
1100–1145 Charles Holbech – Radcliffe Chambers – "Wills and Probate negligence update"
Charles has a particular interest in professional negligence and has lectured extensively upon negligence claims relating to wills. Charles specialises in private client work, both contentious and non-contentious, and increasingly involving technical advice on tax, trusts and estates. Whether advising in conference, on paper, or in court, Charles applies a detailed, but clear, analysis to complex issues.  http://www.radcliffechambers.com/barrister/charles-holbech/
1145–1200 David Pipkin – Director – Underwriting Division – Temple Legal Protection – "Temple Legal Protection's Perspective – Litigation Insurance & Funding Update"
David has spent over 30 years as a Legal Executive specialising in personal injury litigation. Initially, he was a claimant litigator pursuing leading industrial accident and disease cases. As an Associate at Davies Arnold Cooper for over a decade he managed a team of lawyers and acted for defendants in personal injury and general insurance litigation. In this role, he became involved in the early development of the ATE market, assisting the ABI in their involvement in the Court of Appeal test cases such as Callery v Gray. https://www.temple-legal.co.uk/news/person/david-pipkin/
1200–1245 Oliver Wise – Queen Elizabeth Building – "Professional Negligence in Matrimonial Finance"
Oliver has extensive experience in matrimonial financial cases and significant expertise in professional negligence cases relating to family law, both for solicitors and claimants.  In the first 15 years of Oliver's career at the Bar, before specialising in matrimonial finance and professional negligence work, he acted in a broad range of cases, including cases in the Queen's Bench, Chancery and Family Divisions, which gave him a breadth of experience enabling him to deal with a wide range of non-family legal issues arising in family cases. He believes in giving clear and realistic strategic advice at the earliest opportunity.  Oliver accepts direct access cases.
1245-1300 Questions and Discussion
1300–1400 Lunch
1400–1445 Paul Marshall – Cornerstone Chambers – "Agents – some problems with vicarious liability in a commercial context – Morrisions, Frederick and all that"
Paul provides business law advice and dispute resolution services with an emphasis on financial law, commercial fraud and related aspects of professional negligence.
He is praised in the directories for his strong analysis and attention to detail and is considered "a very tough opponent and very good in a difficult case" (opposing silk) and "a delight to work with". He is noted for his willingness to think outside the box, capacity for lateral thinking and for being "unflappable" (Chambers & Partners, Legal 500). https://cornerstonebarristers.com/barrister/paul-marshall/
1445–1530 Ivor Adair – Partner – Fox & Partners – "Claims against employment law practitioners"
Ivor has considerable experience of conducting litigation in both High Court disputes and significant employment tribunal matters, as well as experience in many other aspects of employment, partnership and data protection law.
He regularly advises on sensitive partner and employee exits from professional services firms and in the financial services sector. His deep understanding of the sector was bolstered in 2018 following a course focused on Financial Services and Markets Regulation. He has also acted for senior executives, NHS Chief Executives, medical professionals, professional music performers and sports professionals, including a number of high profile football coaches and managers. Ivor's experience includes disputes arising out of breach of contract, including in relation to remuneration (incentive arrangements, carried interest and good leaver/bad leaver provisions), restrictive covenants matters and in professional negligence claims against firms of solicitors in relation to their employment law advice. He has also advised in arbitration proceedings.
https://www.foxlawyers.com/our-solicitors/ivor-adair/
1530–1545 Refreshments
1545–1630 Tom Shepherd – 4 New Square Chambers – "Claims against Insolvency Practitioners"
Tom Shepherd specialises in Commercial Litigation, including Professional Liability disputes, Civil Fraud, Company, Insolvency and Financial Services.
Tom has recently acted in significant, high-value litigation as part of larger legal teams, both at first instance and in the Court of Appeal. He also appears in his own right in the High Court and County Court as well as before professional regulatory panels. He has extensive experience of trial advocacy, including the cross-examination of a variety of witnesses, and as a sole advocate his opponents frequently include more senior practitioners. Tom was appointed as Junior Counsel to the Crown (Attorney General's B Panel) in June 2016. https://www.4newsquare.com/barristers/tom-shepherd/
1630–1700 Questions and Discussion – Chairman's closing remarks
Terms & Conditions
The full fee invoice for the event is payable unless a cancellation is received in writing at least 21 working days before the event, when the fee will be credited less a £75 administration charge. Substitutions are welcome at any time subject to any variation in price that might be payable if the substitute is not entitled to a discount as a PNLA member or specialist.
The booking constitutes a legally binding contract. The delegate and/or employer are jointly and severally liable for payment of all the fees due.
The PNLA and PNLA Training reserve the right to vary or cancel an event where the occasion necessitates.
The PNLA and PNLA Training accept no liability if, for whatever reason, the event does not take place.
Large print versions of the hand outs can be made available by prior request. If sufficient notice is not received, it will be provided as soon as possible after the event.
If there are insufficient rooms in the hotel to accommodate all delegates who require one when an overnight stay is involved, we will try to arrange for rooms of a similar quality in a nearby hotel, but the organisers cannot be held responsible if such rooms are not available. Any additional cost will be invoiced to the delegate.
To the extent permitted by law, neither The PNLA, PNLA Training Limited or the presenters will be liable by reason of breach of contract, negligence or otherwise for any loss or consequential loss occasioned to any person acting, omitting to act or refraining from acting in reliance upon the course material or presentation of the event, or, except to the extent that any such loss does not exceed the price of the event, arising from or connected with any error or omission in the material or presentation of the event. Consequential loss shall be deemed to include, but not limited to, any loss of profits or anticipated profits, damage to reputation or goodwill, loss of business or anticipated business, damages, costs, expenses incurred or payable to any third party or any other indirect or consequential losses.
The personal information provided by you will be held on a database and you may be contacted from time to time by The PNLA and PNLA Training with details of events and services that may be of interest to you. If you do not wish your details to be used for this purpose, please write to: The Database Manager, PNLA, PO Box 1685, Congresbury, Bristol, BS 49 5WQ or email: yvonne.fairbrother@pnla.org.uk