Leeds Conference – A Northern Round Up
---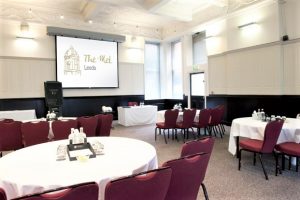 Chaired by Francis Bacon Hailsham Chambers
Hosted by Steven Newdall – Levi Solicitors LLP
Main event sponsors – Temple Legal Protection and Kevin Edward Costs
'A Northern Round Up'
Topics include developments in evaluation of 'loss of a chance', comparisons with clinical negligence, design obligations of construction professionals, litigation funding, developments in witness evidence and the latest news on costs. Aiming to give attendees that 'Bucking Bronco' feeling.
Speakers
| | |
| --- | --- |
| Steven Newdall | Levi Solicitors LLP |
| Chair Francis Bacon | Hailsham Chambers |
| Simon Myerson QC | Byrom Street and St Pauls Chambers |
| Ben Patten QC | 4 New Square |
| Siân Mirchandani QC | 4 New Square |
| Mark Harper QC | Kings Chambers |
| David Pipkin and David Chase | Temple Legal Protection Ltd |
| Dan Stacey | Hailsham Chambers |
Other Information
Professional Negligence and Liability – A Northern Round Up
Suitable for lawyers, experts and other professionals seeking an update in professional negligence and liability. Topics include developments in evaluation of 'loss of a chance', comparisons with clinical negligence, design obligations of construction professionals, litigation funding, developments in witness evidence and the latest news on costs. Aiming to give attendees that 'Bucking Bronco' feeling.
Agenda
Agenda
0915–0945 Registration and Refreshments
0945 – 10.00 PNLA Introduction by Steven Newdall – Managing Partner – Levi Solicitors LLP
Steven qualified as a solicitor in 1992, and since 2004 has combined his duties as Managing Partner of Levi Solicitors LLP with his role as head of the professional negligence team. He splits his time between the Leeds, Manchester and London offices. Over 25 years of litigation and professional negligence expertise Steven is a vastly experienced commercial litigation solicitor who is recognised as one of the leading professional negligence lawyers in the country.
https://levisolicitors.co.uk/our_team/steven-newdall
10.00–1045 Chair's keynote address: – Francis Bacon – Hailsham Chambers
"Loss of a Chance"
Francis specialises in professional negligence, commercial insurance and commercial litigation. He has extensive experience in acting for individual claimants, lending institutions and professional indemnity insurers in obtaining interim remedies in London and overseas. In 2017 Francis was named Professional Negligence Junior Barrister of the Year by Chambers & Partners.
https://www.hailshamchambers.com/barrister/francis-bacon/
1045–1130 Simon Myerson QC – Byrom Street and St Pauls Chambers – "Clinical Negligence and Other Professional Negligence: Similarities and Differences'
Simon is much sought after for cases that require both criminal and civil high-level experience – including on an advisory basis for victims of fraud or those faced with allegations of breach of professional discipline. Simon is regularly instructed in professional negligence actions, together with commercial and criminal fraud and regulatory breach cases:
"… A highly intelligent advocate … a key name for commercial matters, particularly civil fraud cases" Legal 500.
https://www.stpaulschambers.com/barrister/simon-myerson-qc/
1130-11.45 Question and discussion session
1145–1200 Refreshments
1200–1300  – Ben Patten QC and Siân Mirchandani QC – 4 New Square Chambers  – "Design Obligations of Construction Professionals"
Ben Patten QC's expertise lies in a range of commercial work, including construction disputes, professional liability claims, commercial litigation and insurance and reinsurance disputes. Described as "calm under pressure and always willing to stick his neck out on a case" he acts for both claimants and defendants in the TCC, Commercial and Mercantile Courts, Queen's Bench Division, Chancery Division and Arbitrations. He also appears in the Court of Appeal and in expert determinations, mediations and other ADR hearings. "He has an encyclopaedic knowledge of the subject matter, coupled with a fantastic advocacy style. Like a university professor when he needs to be, but then a street fighter when that's appropriate. Watching his advocacy was a masterclass." "He is excellent on detail and provides good, practical advice." – Chambers & Partners, 2019 "He provides strong and decisive advice" – Legal 500, 2019
Siân Mirchandani QC has established a broad commercial practice encompassing construction/engineering, professional liability claims, insurance and disciplinary claims in court proceedings, arbitrations and adjudications. Siân has a particular interest in disputes involving construction, IT, technical and scientific elements and this has led to a strong construction/engineering practice and wide ranging experience in regulatory and experimental product testing claims. Prior to her successful first application for silk in 2018, Siân was recognised as a Leading Junior by the directories for Construction, Professional Negligence and Disciplinary. "She is tremendously bright, has a tenacious eye for detail, and brings a new level of strategic thinking to the table." Legal 500, 2019 "She is very competent and thorough and hits the right points in the right places." "Extremely responsive wherever she is and whatever the time zone. She has a very reassuring demeanour that instils confidence all round." Chambers & Partners, 2019 ""Siân Mirchandani QC is recognised for her superb professional negligence practice." Who's Who Legal, 2019
https://www.4newsquare.com/barristers/ben-patten-qc/
https://www.4newsquare.com/barristers/sian-mirchandani/
1300–1400 Lunch
1400–1445 David Pipkin and David Chase – Temple Legal Protection Limited "How to get the most out of your ATE provider"
David Pipkin is Director of the Underwriting Division. He has spent over 30 years as a Legal Executive specialising in personal injury litigation. Initially, he was a claimant litigator pursuing leading industrial accident and disease cases. As an Associate at Davies Arnold Cooper for over a decade he managed a team of lawyers and acted for defendants in personal injury and general insurance litigation. In this role, he became involved in the early development of the ATE market, assisting the ABI in their involvement in the Court of Appeal test cases such as Callery v Gray.
David Chase is the Deputy Underwriting Manager in Temple's Commercial Department who partners with solicitors and brokers to provide litigation (ATE) insurance and funding solutions to businesses and individuals. Having started his career in ATE insurance in 2006 at FirstAssist, David gained experience in litigation funding as an analyst at Burford Capital, before joining Temple Legal Protection in late 2013. Having worked for over 12 years in this evolving market, David knows what drives customers and he understands that it is how well you connect with the people you are trying to help that makes you succeed.
https://www.temple-legal.co.uk/about-us/our-people/
1445–1530 Mark Harper QC – Kings Chambers – "Witness Evidence – how to do it properly?"
Mark has considerable experience of providing advice and representation to both Claimants and Insurers in relation to professional negligence claims involving solicitors, accountants, financial advisers, and surveyors. This practice involves a considerable amount of work concerning the mis-selling of financial, investment and tax-saving products and schemes including products such as alternative invest markets, unregulated collective investment schemes, film schemes, environmental/eco tax saving schemes, endowment purchase schemes etc.
Member of the Business and Property Court focus group led by Mr Justice Popplewell
https://www.kingschambers.com/all-silks/mark-harper/
1530-1545 Questions and discussion session
1545–1600 Refreshments
1600–1645 Dan Stacey – Hailsham Chambers – "Professional Negligence Costs Update"
Dan Stacey is a senior junior barrister who specialises in professional indemnity and costs litigation. He has been rated in the main directories for many years for both professional negligence and costs and he has appeared in numerous reported cases in the High Court, Court of Appeal and Supreme Court (including Page v Hewetts and Grondona v Stoffel).
"Bright, articulate and a great team player … he is good on his feet. Very relaxed as an advocate; he always seems completely unfazed. He has a really nice style and gets good results" Chambers UK 2019.
https://www.hailshamchambers.com/barrister/dan-stacey/
1645–1700 Chair's closing remarks
Terms & Conditions
PNLA is the trading name for:
The Professional Negligence Lawyers' Association Limited registered in England and Wales No 5206167. Registered Office: 61 Macrae Road Pill Bristol BS20 0DD England
PNLA Training Limited, registered in England and Wales, No 5026041. Registered Office: Ross House The Square Stow-on-the-Wold Gloucestershire GL54 1AF – VAT Registration No: GB840575622
Use of this website
As an association the PNLA will help you search for a Lawyer or Specialist from those listed on this website. We do no more. We do not give advice. We do not vet or in any way accredit the Lawyers or Specialists. We have not verified their qualifications and identity. We accept no legal responsibility or liability for their service to you.
Members and Specialists
The management team reserve the right to reject applications for members and specialists and terminate their membership and listing in circumstances they consider appropriate. Any monies received will be refunded, in whole or in part, at the discretion of the management team.
Booking conferences
The full fee invoice for the conference ticket is payable.
For conferences taking place at a venue on a fixed date, if cancellation is received in writing at least 21 working days before the event the fee will be credited less a £75 administration charge. Substitutions are welcome at any time subject to any variation in price that might be payable if the substitute is not entitled to a discount as a PNLA member or specialist.
For virtual conferences the ticket(s) purchased are for the individual delegate(s) named in the booking. If a delegate gives access to the recorded speaker programme to others then they agree to pay for a ticket at the full fee for all those delegates who watch the programme deriving from such access.
The booking constitutes a legally binding contract. The delegate and their employer/partnership/other practice entity are jointly and severally liable for payment of all the fees due.
The PNLA and PNLA Training reserve the right without prior notice to vary or cancel an event where the occasion necessitates including changing the password for virtual conference programmes.
The PNLA and PNLA Training accept no liability if, for whatever reason, the event does not take place or access online is not possible.
Large print versions of the hand outs can be made available by prior request. If sufficient notice is not received, it will be provided as soon as possible after the event.
If there are insufficient rooms in the hotel to accommodate all delegates who require one when an overnight stay is involved, we will try to arrange for rooms of a similar quality in a nearby hotel, but the organisers cannot be held responsible if such rooms are not available. Any additional cost will be invoiced to the delegate.
To the extent permitted by law, it is agreed that the PNLA, PNLA Training Limited presenters and speakers will not be liable by reason of breach of contract, negligence or otherwise for any loss or consequential loss occasioned to any person acting, omitting to act or refraining from acting in reliance upon the course material or presentation of the event, or, except to the extent that any such loss does not exceed the price of the event, arising from or connected with any error or omission in the material or presentation of the event. Consequential loss shall be deemed to include, but not limited to, any loss of profits or anticipated profits, damage to reputation or goodwill, loss of business or anticipated business, damages, costs, expenses incurred or payable to any third party or any other indirect or consequential losses.
The personal information provided by you will be held on a database and you may be contacted from time to time by The PNLA and PNLA Training with details of events and services that may be of interest to you. If you do not wish your details to be used for this purpose, please write to: The Database Manager, PNLA, PO Box 1685, Congresbury, Bristol, BS 49 5WQ or email: yvonne.fairbrother@pnla.org.uk
Tickets are not available as this event has passed.
Event Sponsors
Temple Legal Protection