Bristol Conference – 5 February 2020 – "Lux legis viam monstrat" -The light of the law shows the way?
---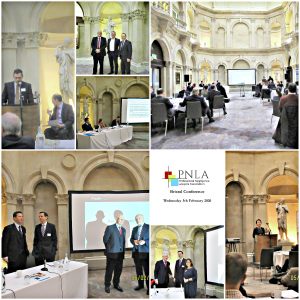 Chairman – William Flenley QC,  Hailsham Chambers
"lux legis viam monstrat"
The light of the law shows the way?
Professional negligence and liability practitioners will find this conference an essential update taking account of the legal developments and general trends and issues arising in dispute resolution in this sector and more. The speakers are drawn from a diversity of backgrounds whilst all offering the benefit of many years of experience to share with us.
Speakers
| | |
| --- | --- |
| Chairman Katy Manley | President PNLA |
| William Flenley QC | Hailsham Chambers |
| John Virgo | Guildhall Chambers |
| Oliver Manley | Guildhall Chambers |
| Lucy Walker | Guildhall Chambers |
| Andrew Burnette | Burges Salmon |
| Marcus Thomson | DAC Beachcroft |
| Klaudia Aliaj | Anexsys eDisclosure & Digital Forensics |
| David Chase | Temple Legal Protection |
Other Information
Agenda
0900–0925 Registration and Refreshments
0925-0930 PNLA Introduction
0930–0950 "Chairman's Address – 2019 – The Year in Damages" – William Flenley QC, Hailsham Chambers
William specialises in professional liability, contract and insurance law. He is co-author of the leading text, Flenley & Leech, Solicitors' Negligence and Liability, of which the fourth edition is now being prepared, and contributed the sections on causation and Saamco in Professional Negligence and Liability. For many years, he has been recommended for professional negligence by each of the main directories. From 2013-2015 he was Chairman of the Professional Negligence Bar Association, and in 2014 was elected a Bencher of the Middle Temple. 'When it comes to professional liability, there can be few at the Bar who are as knowledgeable and as skilled as he is.' – the Legal 500, 2020 edition.
Recent cases include: Addlesee v Dentons Europe LLP [2019] EWCA Civ 1600 (2 October 2019), Group Seven Ltd v Notable Services LLP [2019] PNLR 22 (11 April 2019); Main v Giambrone & Law [2019] 4 WLR 7 (31 July 2017); Purrunsing v A'Court & Co [2016] 4 WLR 81 (01 July 2016).
0950–1035 "SIPPs – The Berkeley Burke Saga" – John Virgo, Guildhall Chambers
John is a specialist commercial barrister, with a strong practice emphasis on high-value financial product mis-selling litigation.
Fresh from victory in Arif & Ors v Berkeley Burke Sipp Administration Ltd John represented the claimants throughout the proceedings and secured the order in August 2019 resulting in Berkeley Burke having to pay almost £1 million as an interim payment on account of the claimants' costs as well as the costs of the claimants' application.
He has appeared in nearly all the leading mis-selling cases, including: lead counsel appointment in a group pension mis-selling action (Cocking v Prudential); acting in a 400 strong group action in the Commercial Court on behalf of Equitable Life's trapped annuitants (Abeles and Others v Equitable Life Assurance Society); acting for Zurich Life to defend claims for product mis-selling arising out of the collapse of the Bahamian Imperial Consolidated Fund (Seymour v Caroline Ockwell & Co; Zurich IFA Ltd); acting for investors into the AIG Enhanced Variable Rate Fund who suffered substantial losses following its collapse (Rubenstein v HSBC Bank);acting for a number of high net worth individuals and businesses in relation to the mis-selling of interest rate hedging products (Rowley and Green v Royal Bank of Scotland). He has acted in a number of leading cases concerned with the manipulation of LIBOR (Graiseley Properties Ltd v Barclays Bank Plc; Hotel de France Ltd v Lloyds (off-shore litigation in Jersey); Rhino Enterprises Ltd v Barclays Bank Plc and Longford Securities Ltd v Royal Bank of Scotland).
He is currently acting in a multi-million pound claim against the Royal Bank of Scotland relating to an alleged expropriation of assets by the Bank's subsidiary, West Register (Morley v RBS).
John is instructed nationwide in complex and substantial disputes where his advocacy and forensic skills are highly valued. He is also retained off-shore in the Isle of Man and Jersey.
1035–1045 Questions and discussion
1045–1100 Refreshments
1100–1115 "The PNLA ATE Scheme" update from David Chase and Andy Lyalle of Temple Legal Protection
1115–1200 "Professional Negligence Update – Limitation Issues in Mortgage Claims" – Oliver Manley, Guildhall Chambers
Oliver regularly accepts instructions in professional negligence cases in banking and financial services including: mis-sold mortgages, negligence financial advice and negligent legal advice.
Most recently Oliver has appeared in the High Court in a complex mortgage mis-selling case where a summary judgment was avoided on limitation. The case raises issues of subrogation, equitable set off and section 32 of the Limitation Act 1980.
Oliver has also recently been led in a case involving the provision of negligent immigration advice by solicitors. The case threw up novel legal issues particularly in the quantification of damages and whether the loss of employment due to the Claimant's loss of immigration status should be quantified by using recognised methods from the personal injury jurisdiction.
Recent Cases Include: Healys LLP v Partridge and anor [2019] EWHC 2471 (Ch) – Led in a case where successfully obtained proprietary injunction in order to aid recovery of in excess of £800,000 of solicitor's fees. DGD & ALD v Abbey National Plc (Santander UK Plc) (2019)- Professional negligence/breach of contract claim in respect of mis-sold mortgage involving subrogation and misrepresentation. Landmark Entertainment Ltd v Evergreat Ltd (2019) – Debt case involving historic intra-company loans worth in excess of half a million. Forklift Truck Ltd v Mollertech Ltd (2018) – MT trial involving novation and subrogation arising from bulk hire contracts. Freefoam Plastics UK Ltd v J (2018) – MT contract trial. Involves validity of personal guarantee. M & 14 others v Freightliner Heavy Haul Ltd (2018) – High Court breach of contract claims where successfully represented 15 train drivers. Wardell & Standish (joint trustees in bankruptcy) v AMJ & Anor – Case involving defending multiple claims from trustees in bankruptcy against former director of the Company. Resulted in successful split of equity in the property.
1200–1245 "Cryptocurrencies: growth area for claims in the 2020s?" – Lucy Walker, Guildhall Chambers
Lucy is a specialist in consumer credit and in the financial services regulatory regime. Lucy undertakes contentious work and non contentious advisory work in relation to all aspects of financial services regulation, including consumer credit, the mortgage and home finance regulatory regime, payment services, cryptocurrencies and cryptoassets, financial promotion, crowd funding, peer to peer lending and general banking and commercial matters, including data protection and the General Data Protection Regulation
1245–1300 Questions and discussion
1300–1400 Lunch
1400–1445 "Disclosure Update including the Business and Property Courts Pilot" – Klaudia Aliaj, Director, Anexsys eDisclosure and Digital Forensics
Klaudia leads Anexsys' eDisclosure and Digital Forensics department in London. Klaudia is an experienced eDisclosure professional and was the first hire within the litigation support team in EMEA for Gibson Dunn & Crutcher LLP. Klaudia has handled complex cross-border litigation using a variety of eDiscloure techniques and analytics. Klaudia provides consultancy to litigators on the use of eDisclosure technology and supports firms with their disclosure strategy.
1445–1500 Questions and discussion
1500-1515   Refreshments
1515–1615
"The Claimant Perspective" – Andrew Burnette, Partner, Burges Salmon
Andrew is a Partner in the Dispute Resolution department of Burges Salmon LLP and heads the firm's predominantly claimant professional negligence practice, which was described by sources quoted in Chambers 2019 as "extremely well-regarded" and "formidable".
His focus is high value and/or complex claims, particularly against solicitors, surveyors/valuers, financial advisors and brokers, actuaries, auditors, accountants and engineers. He has particular experience acting for both traditional and specialist lenders to recover contributions towards distressed loans secured against property, having had a leading role in the Co-operative Bank / Platform portfolio of claims which worked their way through the Courts between 2009 and 2017.
Legal 500 2020 ranks both Burges Salmon LLP's professional negligence practice and Andrew as Band 1 in the South West, noting that: "Andrew Burnette combines great commercial awareness with excellent legal instincts".
"The Defendant Perspective" – Marcus Thomson, Partner, DAC Beachcroft
Marcus has been dealing with professional indemnity work since 1993, both in private practice and in-house. He specialises in defending claims against solicitors and deals with cases arising from all areas of private practice. He has over twenty years' experience in this area and has acted for a number of national and international law firms.
Marcus also deals with claims against surveyors, valuers and accountants has a particular interest in the law of insurance, regularly advising insurers on coverage.
Marcus joined the firm from Travelers Insurance Company in 2002 and was made a partner in 2004.
directory/marcus-thomson#sthash.Wj0FReKi.dpuf
1615-1630 Chairman's closing remarks, questions and discussion session
Terms & Conditions
PNLA is the trading name for:
The Professional Negligence Lawyers' Association Limited registered in England and Wales No 5206167. Registered Office: 61 Macrae Road Pill Bristol BS20 0DD England
PNLA Training Limited, registered in England and Wales, No 5026041. Registered Office: Ross House The Square Stow-on-the-Wold Gloucestershire GL54 1AF – VAT Registration No: GB840575622
Use of this website
As an association the PNLA will help you search for a Lawyer or Specialist from those listed on this website. We do no more. We do not give advice. We do not vet or in any way accredit the Lawyers or Specialists. We have not verified their qualifications and identity. We accept no legal responsibility or liability for their service to you.
Members and Specialists
The management team reserve the right to reject applications for members and specialists and terminate their membership and listing in circumstances they consider appropriate. Any monies received will be refunded, in whole or in part, at the discretion of the management team.
Booking conferences
The full fee invoice for the conference ticket is payable.
For conferences taking place at a venue on a fixed date, if cancellation is received in writing at least 21 working days before the event the fee will be credited less a £75 administration charge. Substitutions are welcome at any time subject to any variation in price that might be payable if the substitute is not entitled to a discount as a PNLA member or specialist.
For virtual conferences the ticket(s) purchased are for the individual delegate(s) named in the booking. If a delegate gives access to the recorded speaker programme to others then they agree to pay for a ticket at the full fee for all those delegates who watch the programme deriving from such access.
The booking constitutes a legally binding contract. The delegate and their employer/partnership/other practice entity are jointly and severally liable for payment of all the fees due.
The PNLA and PNLA Training reserve the right without prior notice to vary or cancel an event where the occasion necessitates including changing the password for virtual conference programmes.
The PNLA and PNLA Training accept no liability if, for whatever reason, the event does not take place or access online is not possible.
Large print versions of the hand outs can be made available by prior request. If sufficient notice is not received, it will be provided as soon as possible after the event.
If there are insufficient rooms in the hotel to accommodate all delegates who require one when an overnight stay is involved, we will try to arrange for rooms of a similar quality in a nearby hotel, but the organisers cannot be held responsible if such rooms are not available. Any additional cost will be invoiced to the delegate.
To the extent permitted by law, it is agreed that the PNLA, PNLA Training Limited presenters and speakers will not be liable by reason of breach of contract, negligence or otherwise for any loss or consequential loss occasioned to any person acting, omitting to act or refraining from acting in reliance upon the course material or presentation of the event, or, except to the extent that any such loss does not exceed the price of the event, arising from or connected with any error or omission in the material or presentation of the event. Consequential loss shall be deemed to include, but not limited to, any loss of profits or anticipated profits, damage to reputation or goodwill, loss of business or anticipated business, damages, costs, expenses incurred or payable to any third party or any other indirect or consequential losses.
The personal information provided by you will be held on a database and you may be contacted from time to time by The PNLA and PNLA Training with details of events and services that may be of interest to you. If you do not wish your details to be used for this purpose, please write to: The Database Manager, PNLA, PO Box 1685, Congresbury, Bristol, BS 49 5WQ or email: yvonne.fairbrother@pnla.org.uk
Tickets are not available as this event has passed.
Event Sponsors
Manley Turnbull Limited