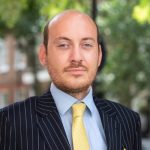 Freemans Law LLP
Solicitor
559661
17/05/2010
---
London
22 Upper Woburn Place
London
London
WC1H 0HW
am@freemanssolicitors.net
02079 353522
Email
Biography
Andrew Maidment is a Partner and Head of the Litigation Department at Freemans Solicitors.
He specialises in litigation and dispute resolution and advises individuals, small businesses and larger corporations, both nationally and internationally. Andrew always strives to achieve the best possible outcome for his clients.
Andrew is an expert in the field of litigation, having exclusively practised within the area of dispute resolution since qualifying as a solicitor. He has successfully represented hundreds of clients throughout his career spanning over a decade and has consistently received acknowledgement for his high levels of client care. He is skilled at reviewing vast amounts of documentation, focusing in on the relevant information, and then clearly, concisely, and comprehensively advising upon often complex aspects of the law.
Through the means of litigation, negotiation, or indeed any other forms of alternative dispute resolution he will tenaciously pursue matters on behalf of his clients. He adopts a considered and balanced approach to advising on the prospects of a claim or defence, whilst appreciating relevant commercial factors, and focusing on how best to achieve a satisfactory conclusion given all the circumstances.
Away from work Andrew enjoys eating out, indulging in his love of the theatre, playing with his cats or furthering his yoga practise.
Areas of Expertise
Accountants
Actuaries
Architects
Banks
Barristers
Computers and Cybercrime
Construction
Debt Advisors
Engineers
Estate Agents
Financial Services
Information Technology
Insurance Brokers
Pensions
Planning
Solicitor - Chancery
Solicitor - Civil Litigation
Solicitor - Clinical (including Medical and Dental)
Solicitor - Commercial Litigation
Solicitor - Commercial Property
Solicitor - Contracts
Solicitor - Defamation
Solicitor - Employment
Solicitor - Group Litigation
Solicitor - High Court Enforcement
Solicitor - Immigration
Solicitor - Industrial Disease & Injury
Solicitor - International Trade
Solicitor - Investments
Solicitor - Landlord & Tenant
Solicitor - Licensing
Solicitor - Matrimonial
Solicitor - Motor Accident
Solicitor - Personal Injury
Solicitor - Probate
Solicitor - Residential Conveyancing
Solicitor - Tort
Solicitor - Wills & Probate
Solicitors
Stockbrokers
Surveyors
Tax Advisers
Valuers
Vets